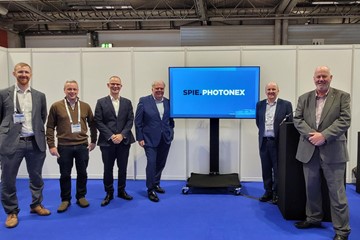 Compound Semiconductor Cluster connects at SPIE Photonex
07th December 2022
CSconnected was honoured to co-ordinate an industry workshop at SPIE Photonex focussed on UK regional Photonics initiatives that have been enabled by Compound Semiconductor (CS) technologies. The speaker line-up included presentations from Chris Meadows, representing the Welsh Compound Semiconductor Cluster, CSconnected; Nick Bowden, Vector Photonics, to present the Scottish supply chain for advanced semiconductor lasers; Mark Gubbins, Seagate, Northern Ireland, detailing progress on Heat-assisted magnetic recording as the future of data storage; and Martin McHugh, Compound Semiconductor Applications Catapult, detailing the Catapults role in connecting Clusters of excellence in compound semiconductor applications across the UK.
Richard Duffy from the Semiconductor Sector team at the UK Government's Department for Digital, Culture, Media & Sport (DCMS) gave an update on progress of the UK Semiconductor Strategy, and the vision for the UK's position in the rapidly expanding global semiconductor marketplace.
Wyn Meredith, Chair of CSconnected, who chaired the session commented 'We are seeing the self-organisation and  alignment of regional capability in Compound Semiconductor technologies and supply chains across the UK in preparation for a comprehensive UK strategy. We are working closely with the team at DCMS to ensure we build on our world class capabilities in CS research and manufacturing to keep the UK at the cutting edge of an industry worth over $90B per annum'.