14th December 2022
The Compound Semiconductor Centre (CSC) is a key partner in a consortium that has been granted £12 million funding from the UK Department for Digital, Culture, Media and Sport (DCMS), in a Bristol University led project to develop and industrialise technologies and solutions for future 6G mobile networks.
The project, 'Realising Enabling Architectures and Solutions for Open Networks' (REASON) brings together an ecosystem representing the entire telecommunication R&D supply chain, from major mobile network equipment vendors, Ericsson, Samsung and Nokia through to advanced component solutions developed by members of the South Wales Compound Semiconductor Cluster, 'CSconnected'. The funding was secured from the Future Open Networks Research Challenge, part of the UK government's strategy to diversify the UK's telecoms supply chains.
REASON will develop a roadmap for open 6G networks, which will set the framework for new developments across the entire technology stack. New concepts will be proposed to support unprecedented network densification and smart technologies will be developed to enable multi-technology access networks, extract real time sensing information and support 6G use cases.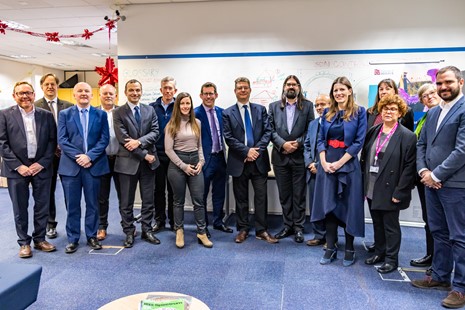 DCMS Secretary of State Michelle Donelan with members of the REASON team
The Semiconductor team in the consortium is led by CSC and includes teams at Cardiff, Bangor and Swansea Universities, the Compound Semiconductor Applications Catapult, and Integrated Compound Semiconductors Ltd. The team will develop novel semiconductor components designed to optimise system performance of new solutions in LiFi, RF and Optical transmission modes.   
Project Lead Professor Dimitra Simeonidou said: "University of Bristol is delighted to lead this partnership and drive the development of future open 6G network solutions in the UK. We have built a consortium of partners representing the entire telecoms R&D ecosystem, including leading UK Universities, large equipment vendors, service and content providers and innovative SMEs."
Professor Wyn Meredith, Director of the Compound Semiconductor Centre commented "Semiconductor devices are critical components that enable the processing, transmission and storage of data in modern communications networks. As consumers, we have high expectations that 5G and 6G networks will offer higher bandwidth, lower latency, and ubiquitous mobile coverage; at an ever decreasing cost point.  There are huge gains to be made in reducing the cost of hardware, use of existing fibre and RF infrastructure, and energy efficiency by adopting next generation compound semiconductor component solutions – we are excited to be part of an 'atoms to applications' holistic approach to realising future networks."
The Secretary of State for DCMS, Michelle Donelan, met the consortium at Bristol University ahead of the announcement. She said: "The technology powering our phone and internet networks is evolving rapidly and with 6G on the horizon we must stay ahead of the curve. "This government investment will see top UK universities join forces with industry to develop the nuts and bolts underpinning new networks, create skilled jobs testing the security of the latest telecoms technology, and ensure that our plan for a more diverse and innovative telecommunications equipment market is sustained in the future."