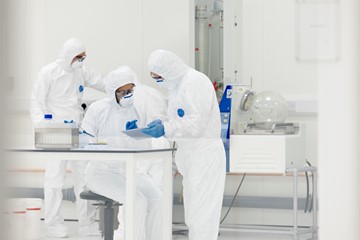 Cardiff University launching Cleanroom Protocols CPD course
13th March 2023
Cardiff, UK.
Cardiff University has launched the first in a series of short CPD courses for the compound semiconductor sector, as part of the CSconnected SIPF project.
The Cleanroom Protocols course is primarily designed for those who are new to the semiconductor industry, or those considering a career in the sector, and is one of five Continuing Professional Development (CPD) courses being launched by Cardiff University in 2023, to help address the urgent need to increase semiconductor skills capability.
The skills agenda is a key focus of CSconnected Strength in Places Fund (SIPF), a £43M 55-month project part-funded through UK Research and Innovation's flagship Strength in Places Fund, and has deliverables in CPD activities.
The online bite-sized CPD course provides an overview of what it is like to work in a cleanroom environment and covers typical working practices as well as general principles for safe working. Filming took place at cluster partner KLA's cleanrooms and at Cardiff University's Institute for Compound Semiconductors.
Skills are essential in enabling the growth of the CSconnected cluster with the number of jobs expected to more than double over the next three years, with the CPD element of the CSconnected SIPF project supporting the development of the skilled workforce for the South Wales region.
Kate Sunderland, CPD Project Manager for CSconnected SIPF, said:
"We are delighted to launch the first of our new CPD courses, which will help increase relevant skills in the region. This Cleanroom Protocols course is specifically aimed at those new to, or thinking of entering, the industry. It will be of particular interest to companies within the CSconnected cluster but is also open to anyone across the globe. It is a short, asynchronous course, which participants can take in their own time, so is ideally placed to become part of an onboarding or induction package.
2023 will be a busy year, with four more CPD courses on the way, covering topics in electronics, photonics, etching and wire bonding."
For more information on the Cleanroom Protocols course, including how to book, visit Cardiff University's professional development website: Cleanroom Protocols - Professional Development - Cardiff University
About CSconnected
CSconnected is the collective brand for a growing number of advanced semiconductor related activities in Wales, home to a unique community of academic institutions, prototyping facilities and global, high-volume manufacturing capabilities that collaborate across a range of research and innovation programs. CSconnected is uniquely positioned to develop a global advantage in a sovereign, key enabling technology which will allow Wales and the UK to increase trade globally in critical sectors such as 5G communications, autonomous and electric vehicles, advanced medical devices, and consumer electronics of the future.
In 2020, CSconnected received government funding provided through UK Research and Innovation's flagship Strength in Places Fund (SIPF). The 55-month CSconnected SIPF project has a total value of £43million, supported by £25million of UKRI funds. It builds on Wales's regional strengths and integrates research excellence with a unique regional supply chain in compound semiconductor manufacturing.